Easiest Way to contact Signs By Rob is email or phone!
R&R Graphics is now Signs By Rob!
Welcome to Signs By Rob!  Originally R&R Graphics, Signs By Rob has come a long way.  We're celebrating 26 years in the sign industry!  Since 1991, we've been helping local business owners get the most out of their sign projects. We specialize in real estate signs, vehicle wraps, marine and fleet signage, promotional signage, wayfinding and more.
R&R Graphics was born in Rob's garage and quickly grew to become a full-fledged local sign company based out of Renton, Washington.  We pride ourselves on personalized customer service and building relationships with all our clients. Stop by and meet the team!  You never know whom you might meet.  Either Senior's grandchildren, family pets or other friends who drop by to say hello.
The best way to contact us is by emailing
signsbyrob@gmail.com or call (425) 793-9585
Formerly R&R Graphics…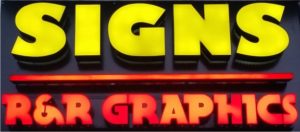 Experienced
With over 25 years of experience, Rob has the capability to get your sign done right.

Quality
Rob takes quality seriously and whenever you order a sign from Signs by Rob he personally ensures your sign is everything you wanted.

Professional
From fast turnaround times to great pricing, Rob delivers high quality signage that will help you stand out as a professional.

Testimonials
Here's what just some of our clients have said
He did some signage work for me and it came out perfect. Will use them again.
–Jesse DW (5 Star Google Review)
Rob is top notch in service, value & quality. Always straight forward, Rob will be upfront and practical about the delivery date. I have been ordering signs from him for 10+ years even though my company uses a different sign company.
–Cyndi Carver (5 Star Google Review)

Fantastic business, highly recommend for all sign needs.

–Tow Racer (5 Star Google Review)
Rob Demonstrates Vinyl Lettering Application
Frequently Asked Questions
These are just some of the most common questions we get asked. For anything else, please contact us – we would be delighted to help.
What are your most popular projects?
We crank out a lot of signs for Real Estate agents and vehicle wraps and graphics.  We offer the best pricing and service for a great looking result. We don't advertise that much, but these projects keep us busy.  Let us know how we can help you get your sign or promotional products going.
Why Choose Signs By Rob?
There are many sign companies out there.  But how many can say they have been around for over 25 years and have great friendships with some of our long standing customers.  As a family owned business, we treat people with respect for their time, their hard-earned money and their expectation of quality. We want to earn your business for the long term and someday, call you part of our sign family!
What types of signs do you build?
We have the capability to create custom digital prints and signage with professional graphics and custom lettering.  We can apply your custom design to banners, a-boards, real estate sales signs, vehicle wraps, dimensional letters and more.  Whether it is metal, plastic wood or glass, we can install an attractive and effective sign or graphic for all your promotional needs.
Signs By Rob, LLC
17634 108th Ave SE (Benson Rd)
Renton, WA  98055
Phone:   (425) 793-9585
Fax:        (425) 793-9247
Email:    signsbyrob@gmail.com
Do you have questions about how Signs By Rob can help your company? Send us an email and we'll get in touch shortly.